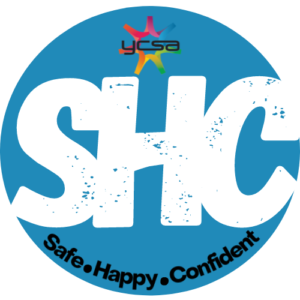 Safe Happy Confident (SHC) is a programme organised by YCSA and funded by the KFC Foundation in partnership with Comic Relief. The programme empowers young people from Black and minority ethnic backgrounds aged 16 – 25 living in Glasgow to improve their resilience and communication skills, expand their social network and achieve their goals. Through SHC, young people can get involved in:
Creative Projects – our group projects provide an opportunity for young people to learn new skills, make friends, express themselves and create something they are really proud of. We will be exploring photography, filmmaking, music, growing, art and more. Projects will last for 10 – 12 weeks and there will be several different intakes throughout the year.
1:1 Support– our volunteers support young people to set goals, improve their CV, search for jobs, practice English, complete official forms such as benefits applications, get more involved in their community or just decide what they want to do next. Young people can access a volunteer for 1 or 2 sessions if they want support with a short term goal, or up to 6 sessions if they would benefit from longer term coaching.
Who is it for?
Young people from Black and minority ethnic backgrounds aged 16 – 25 who are at risk of homelessness or offending. This includes young people who are seeking asylum or have refugee status.
More Information
If you have more questions about the programme, or you would like to make a referral we would love to hear from you! You can contact the SHC team through the details below:
Programme Lead – Joe Donnelly, joedonnelly@ycsa.org.uk, 07566 806 166
Development Worker – Sarah Bowers, sarahbowers@ycsa.org.uk, 07546 636 314