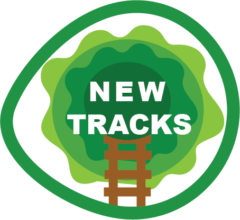 **This programme has finished, and there was a lovely event to celebrate its completion.**
This programme is for young people from Pollokshields and Govanhill, aged 12-18. Please feel free to refer (or self refer) to us if someone you know may benefit from our programme!
Activities include: bushcraft; outdoor cookery; gardening; expressive arts (including music and video); environmental learning including recycling and sustainability; navigation and campcraft.
New Tracks is a collaborative partnership between YCSA (lead agency), Glasgow Life, Community Renewal, and Urban Roots. As a response to the impact of Covid, it is delivering a programme of youth engagement and informal learning activities aimed at young people aged 12-18 who have disengaged from formal education or who are struggling with attending and attaining at school, based around outdoor learning opportunities delivered in the local community and in the school environment.
Young people's work will be will be accredited using the Community Achievement Awards, the Duke of Edinburgh's Award, the John Muir Award, and the Dynamic Youth Awards.
What's been happening in New Tracks?