Board Members
Fatawu Yahaya – Chair
With a post graduate degree in Business Administration, and considerable experience working in the private sector both in UK & in Ghana, Fatawu has also worked as a teacher & is a former Chair of the Ghana Welfare Association in the West of Scotland. He has experience in marketing, fundraising, PR & the media. The newest member of the YCSA Board, Fatawu was elected at the AGM in May, 2019, & was subsequently appointed as Treasurer.
Anwari Din
A qualified Social Worker, Anwari also has postgraduate qualifications to Diploma & Masters level in a range of complementary therapies & counselling. During her career, in addition to many years as a Social Worker & Senior Social Worker, Anwari served as Race Equality Advisor to Strathclyde Regional Council, Training Officer for its Ethnic Minority Project & for 10 years until 2012 as CEO for the Youth Community Support Agency. Anwari has served on the Board of 4 Scottish charities, serving as Chair of 2 of these & has extensive experience of voluntary community work particularly with BME communities. Anwari joined the YCSA Board in Feb, 2017 to contribute her wide-ranging experience & commitment in the role of YCSA Board member, becoming Chair in Dec, 2017.
Shehla S. Ihsan
Educated to both Masters and Doctorate level, Shehla is a qualified & practicing prescribing pharmacist. She is also the CEO of an international trading company. Shehla is currently the Chair & Founder of a BME community health charity (SCIO) & has served
on the Boards of a number of other charities as well as having undertaken extensive community development work within the BME community for around 16 years. She previously chaired the Culturally Competent Planning Group of the GGCNHS Glasgow Diabetes Project & is also a current member of the Royal Pharmaceutical Society. A long term resident of Pollokshields, Shehla joined the YCSA Board in Feb, 2017 to bring her knowledge & experience of voluntary sector management to YCSA. Having served as an interim Treasurer for a period from Dec, 2017, Shehla served as Secretary of the Board from March 2018 until May 2019 & was appointed Vice Chair in June 2019.
Staff
Joe (Dip Youth & Community Work) – Development Worker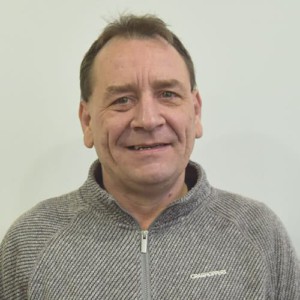 Joe graduated in 1990, following years of community involvement addressing homelessness & addiction in his home town, setting up accommodation & counselling projects. Has worked across communities supporting young people with complex experiences of addiction & trauma related issues. Has supported various communities, youth organisations & national agencies (Princes Trust/Columba 1400) developing practice & engagements of hard to reach young people emphasising inclusion & employability. Has delivered training across a spectrum of youth & community development issues and he is currently working towards qualifications in applied psychology & counselling.
Shameem – Counsellor & Wellbeing Co-ordinator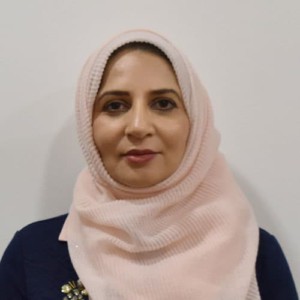 Shameem started her career in the civil service. During a career break whilst raising a family she was often occupied with either volunteering for charitable causes or learning new skills. One of her ambitions included sourcing organic fabrics, designing & creating bespoke, intricate pieces of clothing & scarves, which she displayed & sold in exhibitions. To keep active, she has accomplished a number of 10K walks & raised money for causes she holds dear to her heart. Her friends see her as a good listener & thatís the reason she is doing the job she loves best!Her motto is ìeveryone can help someone.î Shameem is married with 2 children.
Andy – Digital Inclusion & Admin Officer
Following 3 years as E-business consultant in NZ, Andy took off around South East Asia, India and Cyprus before settling in sunny Glasgow. After working briefly in a mountaineering centre, Andy took up a role as a bank Fraud Adviser before changing direction into the 3rd sector here at YCSA. Having studied International Relations & Film at University, he is keen on getting hands on in local projects at grassroots level; making entrepreneurial and digital skills more accessible and promoting multicultural events. In his spare time he likes reading and foreign cinema, and time away chasing sun and culture in some obscure European city.
Ama – Programme Lead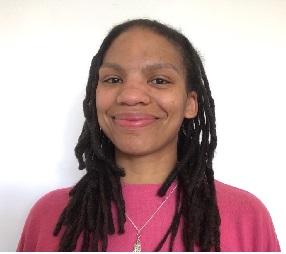 Ama has always been passionate about equality and empowering BME young people. She has over fifteen years' experience of working in the voluntary sector, and has supported human rights organisations since an early age. After graduating with a degree in Human Biology with Sociology and Psychology, she worked for the BME women's support charity Saheliya, where she ran their Climate Challenge Fund projects. She is also passionate about mental health awareness, outdoor and environmental education.
Rachel – Programme Lead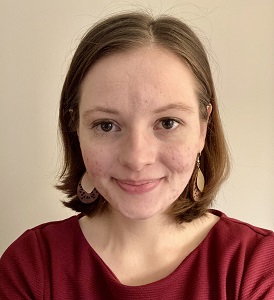 Rachel has followed her career in community and youth development from Peru to the USA and now Scotland. Her experience includes classroom teaching, working alongside indigenous communities, organizing for immigrants' rights and engaging with international charities. Underpinning all of her work is her passion for supporting young people to lead change within their communities. Rachel holds an MSc in Global Migration and Social Justice, speaks Spanish and Portuguese and is learning Arabic.
Paolo – Art Therapist (Healthy Young Minds Project)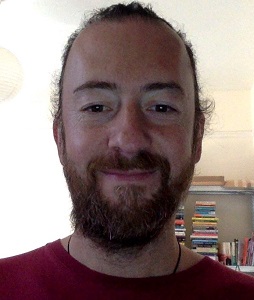 Paolo comes from Italy, he used to live in London and he recently found a new home in Glasgow. Paolo is fine with the pronoun "he", but he is also very happy with "they". He spent his childhood drawing, and he thinks he is pretty good at it still today. Paolo loves reading, writing and learning from both books and people. Before training as an art therapist, he used to teach and to organise community activities in his neighbourhood. Paolo has worked as an art therapist in community centres, hospitals, schools, people's homes, and with adults and children of many different backgrounds. As an art therapist he encourages people to use their creativity to explore the relationship with themselves and others. Paolo has also a passion for trees, vegetables and food, and he loves walking around Pollokshields to look at the neighbours' plants and flowers.
Misa – Art Psychotherapist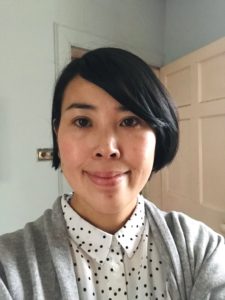 Misa is an art psychotherapist from Tokyo, Japan who speaks English, Japanese and some Spanish. She has experience working as a trainee art psychotherapist both educationally and with the NHS. She has worked as an educational facilitator to provide creative workshops at schools, hospitals, Women's Aids, galleries & community centres and enjoyed meeting people of all walks of life through the process of making paper folding objects. She is passionate about promoting equality & diversity as an activist & member of groups within schools & community. She holds MSc Art Psychotherapy from Queen Margaret University, Edinburgh & MEd from Newcastle University where she studied as a Rotary ambassadorial scholar. In Japan, she worked as a teacher and enjoys working with young people to help them unlock their potential. She enjoys spending time with family, playing sports, reading, growing organic veges and of course creating art!
Sarah – Development Worker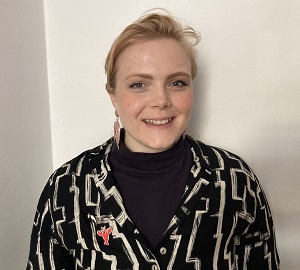 Sarah is a graduate of the Glasgow School of Art's Environmental Art Degree. During her studies she became passionate about making art with communities and young people. She was since worked as a support worker with mental health charities, as a teaching assistant and most recently with Child and Adolescent Mental Health services delivering gardening, cooking and arts groups with teens. Sarah has also volunteered with numerous creative and mental health charities such as Child Line and Project Ability. Sarah believes strongly in empowering young people to be the best versions of themselves through creative expression.